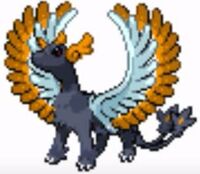 Angragon is a relatively major character in the first season of the Aquablade Chronicles. She died in the final episode of the Aquablade Chronicles Season One series, Together We Stand.
Aquablade Chronicles Characters
Good Characters:

Aquablade11 (

Uber Form,

Dark),

Flare Hawk (

Lava Goose,

Volcano Phoenix),

Demonic Venom Lord,

Angragon,
Twoohfive205,
Neutral Characters:

Aquablade Warrior (

Skullsaber),

Dark Stalker,
Villains:

Flare Hawk (

Lava Goose,

Volcano Phoenix),

Darkceus,

Vaur (

Sala,

Salavaur)
Secondary Characters:
Ad blocker interference detected!
Wikia is a free-to-use site that makes money from advertising. We have a modified experience for viewers using ad blockers

Wikia is not accessible if you've made further modifications. Remove the custom ad blocker rule(s) and the page will load as expected.