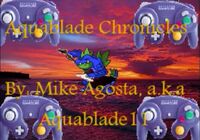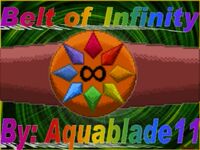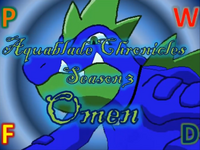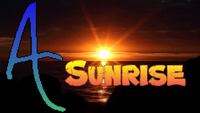 The Aquablade Chronicles were a series of progressing longer videos created by Aquablade11. These mostly consisted of fan-made Pokémon called sprites attacking each other and Aquablade11 and his friends saving the world. An episode of the series would last between 10 and 20 minutes, with the season finales being far longer in length. The series was removed from Aquablade11's primary channel in 2011. Due to an outrage Aquablade published most of the episodes back on the ABArchives account. He then removed the videos on the ABArchives account in 2017 and started reuploading all of the episodes including the prologue episodes, and season three of the series for the 10th anniversary of his channel. However, he actually uploaded an additional episode never before seen on December 1, 2017 teasing the new season of the Aquablade Chronicles, Aquablade Chronicles: Sunrise.
Main article: Aquablade Chronicles Episodes
Aquablade Chronicles
Seasons: Season One, Belt of Infinity

Aquablade Chronicles Characters

Good Characters:

Aquablade11 (

Uber Form,

Dark),

Flare Hawk (

Lava Goose,

Volcano Phoenix),

Demonic Venom Lord,

Angragon,
Twoohfive205,
Neutral Characters:

Aquablade Warrior (

Skullsaber),

Dark Stalker,
Villains:

Flare Hawk (

Lava Goose,

Volcano Phoenix),

Darkceus,

Vaur (

Sala,

Salavaur)
Secondary Characters:
Aquablade Chronicles Teams
Ad blocker interference detected!
Wikia is a free-to-use site that makes money from advertising. We have a modified experience for viewers using ad blockers

Wikia is not accessible if you've made further modifications. Remove the custom ad blocker rule(s) and the page will load as expected.