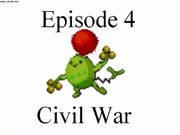 Video Description
Edit
"I think the point of this episode was to just have one large battle between sprites who support Aquablade and those who do not. The episodes are slowly improving, so technically this is the best one yet, but meh. I feel like it's still pretty bad."
Ad blocker interference detected!
Wikia is a free-to-use site that makes money from advertising. We have a modified experience for viewers using ad blockers

Wikia is not accessible if you've made further modifications. Remove the custom ad blocker rule(s) and the page will load as expected.