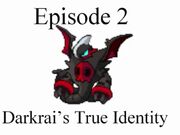 Aquablade Warrior becomes Skullsaber after allowing Vaur to enter ABW's body.
Description
Edit
"This episode is probably remembered by quite a few people on YouTube for one huge reason. After this video was posted, I hadn't posted another in about 8 months, leaving this as the only thing to watch from me for awhile. You could call these the dark days of Aquablade11 I suppose.

Nonetheless, this episode is definitely an improvement on the storyline aspects, but I feel like simply reading it from a book made it kind of boring. Oh well, an improvement is an improvement nonetheless."
Inconsistencies
Edit
The title card text reads "Darkrai's True Identity" instead of the actual video title (Darkrai's True Form).