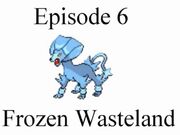 Description
Edit
"Alright, now things start to actually pick up. This was easily my favourite episode at the time, and I think it is Ren's as well. For the record, Ren is one of the very few people who I'm quite alright with having put into the series, and I'd gladly put him in another if I ever did something like this again. Oh, and Darkwing too. Regardless, this episode is very action-packed, suspenseful, and actually well put-together, unlike nearly all of my previous ones. So yeah, enjoy!"
Ad blocker interference detected!
Wikia is a free-to-use site that makes money from advertising. We have a modified experience for viewers using ad blockers

Wikia is not accessible if you've made further modifications. Remove the custom ad blocker rule(s) and the page will load as expected.