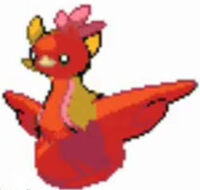 Lava Goose was the original form of Flare Hawk. He wanted to get revenge when Aquablade11 gave him a horrible looking sprite in Lava Goose's opinion. He later evolved into Volcano Phoenix.
Aquablade Chronicles Characters
Good Characters:

Aquablade11 (

Uber Form,

Dark),

Flare Hawk (
Lava Goose,
Volcano Phoenix),
Demonic Venom Lord,

Angragon,

Twoohfive205,
Neutral Characters:

Aquablade Warrior (
Skullsaber),

Dark Stalker,
Villains and Traitors:

Flare Hawk (
Lava Goose,
Volcano Phoenix),

Darkceus,

Vaur (

Sala,
Salavaur)
Secondary Characters:
Ad blocker interference detected!
Wikia is a free-to-use site that makes money from advertising. We have a modified experience for viewers using ad blockers

Wikia is not accessible if you've made further modifications. Remove the custom ad blocker rule(s) and the page will load as expected.