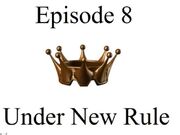 Description
Edit
"Fun fact: This is the very last episode made on the old version of PowerPoint. After this, all episodes are made on the 2007 version. Regardless, this was one of my favorite episodes at the time of posting, mostly because I felt it was a huge turning point in the series. Whether it's better than episode 6 or not is debatable, but either way, this and 6 are definitely the best 2 episodes ever made on the old PowerPoint. It isn't saying a whole lot, but I definitely enjoyed this one quite a lot at the time, and I feel like it still is pretty good today. Enjoy!"
In the first five seconds of the Episode, the bottom-left has the PowerPoint 2000 Toolbar.
Ad blocker interference detected!
Wikia is a free-to-use site that makes money from advertising. We have a modified experience for viewers using ad blockers

Wikia is not accessible if you've made further modifications. Remove the custom ad blocker rule(s) and the page will load as expected.